Marshall JVM410H Bundle 1
Blues
Funk
Metal
Rock
Blues line
Funk line
Metal line
Rock line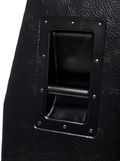 This product is expected on the above date and can then be sent immediately.

Item number: 223391
sales unit: 1 piece
available since: 2009/01/29
Power: 100 W
Power Amplifier Tubes: EL34
Channels: 4
Reverb: Yes
Footswitch: Yes
Product Details
Bundle offer comprising
Marshall JVM410H
Gone are the times when you only had to run your finger once along all potentiometers of your Marshall to achieve the classic rock sound (as well as tinnitus).
The JVM410H(ead) offers plenty of adjustment options, in particular a huge variety of sounds that differ greatly from one another and sound great. 4 channels with 3 options each (making 12 modes in total that can be selected directly via foot switch or MIDI) cover everything that one could need. From outstanding clean sounds (not necessarily a traditional forte of Marshall) over classical crunch and lead sounds, to truly well-Defined hi-Gain sounds - everything is there and is very convincing.
For the purists: No semiconductor will cloud your sound - everything you hear is produced with tubes. The classic EL34 power amplifier lends its typical Britishness to all sounds without making them sound the same. Marshall the modern.
Power: 100 w
4 Channels in full tube technology - no semiconductor in signal path
Preamp tubes: 5x ECC 83
Power amp tubes: 4x EL34
Individual 3-band EQ as well as gain & volume for each channel
12 basic sounds can be chosen directly via foot switch or MIDI
EL34 power amplifier with presence and resonance control
2 Switchable and programmable master volume controls
Programmable parallel FX loop with hardware bypass
Digital reverb with individual controls for each channel
Serial insert loop with hardware bypass circuit
Emulated DI out
MIDI IN and MIDI THRU
Dimensions:: 740 x 310 x 215 mm
Weight: 22 kg
Including foot switch
Matching dust cover: Article #150488# (not included)
Harley Benton G412A
Guitar CabinetFor some guitar sounds (especially rock and heavy metal) a big 4 x 12" is the only way to go. Maybe even two of them.
For those guitarists without an infinite cash supply, there's the G412A from Harley Benton. The speaker is slanted towards the top, which makes sense when it stands on the floor - the sound projects to where you can really hear it yourself, and your band mates will be happy too.
Removable wheels and reliable carrying handles ensure that it doesn't get knocked around during transport.
Slanted design
Equipment: 4 x 12" Loudspeaker
Power handling: Mono 280 W @16 Ohm or 4 Ohm, Stereo 2 x 140 W @ 8 Ohm
2 Large integrated carrying handles
Jack connection
Removable castors
Maximum SPL: 129 dB
Dimensions (W x D x H): 712 x 355 x 712 mm
Weight: 39 kg
Colour: Black
Suitable protective cover: Article number #268686# (not included)
the sssnake PPS1015
The sssnake PPS 1015
1.5 m Speaker cable, 2 x 1.5 mm² cross section
6.3 mm Jack - 6.3 mm Jack
Suitable for passive speakers - not for active speakers
Related Products